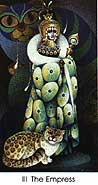 The card represents the critical factor for the issue at hand.
The Empress
: Feminine progress. Action. Natural energy. Development. Fruitfulness. Accomplishment. Interest in day-to-day details. Mother. Sister. Wife. Marriage. Children. Feminine influence. Material wealth. Evolution. A leader. Decisions founded upon all the facts at hand. The motivator of a successful partner or husband. Businesswoman.
___________________________________________________________________________
I'm a bit distraught over some personal dealings so I happened to think "why not ask Tarot?" After a good reading I thought why not ask about the Helki Cat Breed. I used the Cat People cards and the system choose a one card spread for me. The above is the reading. I have to say facade.com sure has me convinced. The cat on the card even looks like a stylized Helki. That could be a Romo/Tigre future kitten. lol. Well a girl can dream but maybe I dream too often. I've had a huge kick in the butt today. I hope that it all works out for the best.